Art House Vintage is a replica 1930's style lorry, totally built and fitted by Rob, including a vintage looking AA box (Automobile Association), which doubles up as a shower and toilet. It is parked in a beautiful spot on the croft with magnificent views across to the mainland mountains.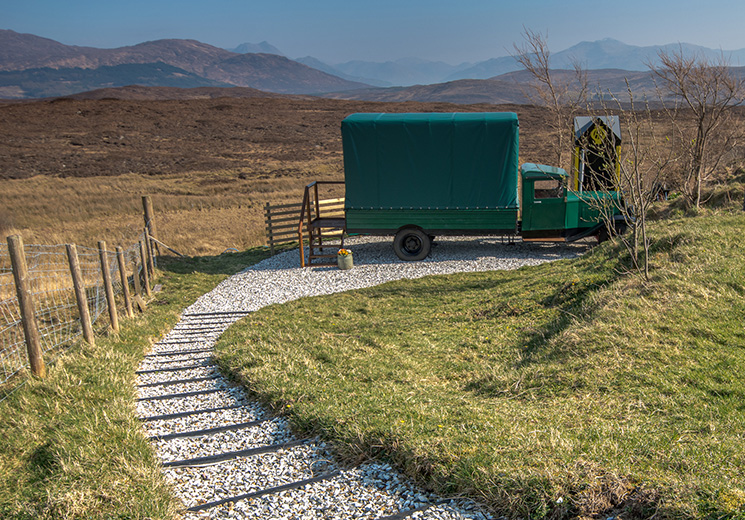 The interior has a bench sofa, which folds out to make a double bed, a wee table and stools, so you can enjoy your meals while admiring the view! There is a kitchenette comprising of a sink with hot and cold water, full size fridge with freezer compartment, double gas hob and microwave. Heating is supplied by an electric heater. The truck has wifi and a smart speaker. All cooking utensils, saucepans, crockery, and cutlery are supplied along with bedding and linen. There's also facilities to cook outside with a barbeque/firepit and outdoor seating.
The AA box serves as a wet room with gas powered shower, basin and toilet. Towels and soap are supplied too.
On arrival you will find a welcome basket filled with homemade bread, cookies and eggs from our free range hens along with milk and butter in the fridge. Tea and coffee are also supplied.
We hope we can tempt you to stay in this special holiday venue! Everything is prepared to a high standard with the aim of giving you an enjoyable and comfortable experience.
Please click here for reviews of Art House Vintage and past reviews of our bed and breakfast business. Although we will no longer be offering accommodation in our home, these will give you an idea of the high standards that we offer all our guests. Art House is yet to be reviewed as it will only be ready for guests from Easter 2023.