Art House details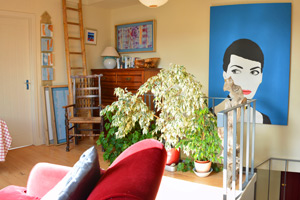 The Guest rooms on the upper floor are furnished with King size beds. They are light and spacious with spectacular views.
The Guest room on the lower floor has a double bed. The room is a good size with fitted storage space for luggage and clothes.
All rooms have access to the guest lounge area on the upper floor, with comfy chairs, desk, books and fridge.
The Blue Room is the largest of the 3 rooms and looks east from the balcony, towards the mainland hills. It has an ensuite bathroom with bath and shower.
The Red Room faces west to the Isle of Rum. It has an ensuite shower room.
The Green Room looks west also, with views across the township of Heaste and to Beinn nan Carn. It has its own personal shower room adjacent to the room.
Food
Breakfast is served between 7.30 and 9.30 am. The cooked breakfast includes free range eggs from our own hens, Stornoway black pudding and home made bread.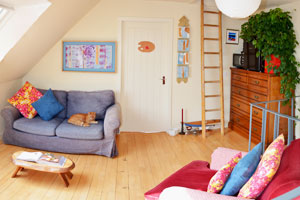 If you prefer something lighter you can have toast, yoghurt and fresh fruit or why not try our almond porridge with fresh cream and berries? Other choices include home made pancakes with bacon and maple syrup or scramble eggs with smoked salmon
SUMMER PRICES
Blue Room £110 per night including breakfast
Red Room £105 per night including breakfast
Green Room £80 per night including breakfast.
Please click here for reviews of the Art House on AirBnB.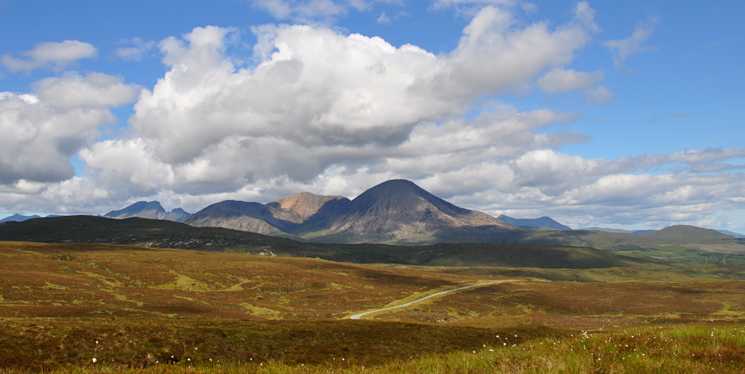 The road to Heaste village from Broadford.